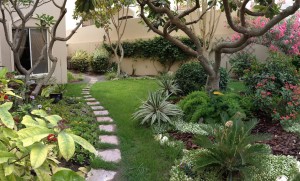 One would be forgiven to think that in a garden as small as mine that distinct climates exist in its different parts. I know the pictures make it look big, but trust me on this, it's less than 700 square meters in total area. The garden is divided in three parts; here, you see the Southern part of the garden and it has traditionally been the warmer part. This is due to the neighbour's high perimeter wall and its sheltered nature too.
Here, the warm-climate loving plants thrive. The two plumerias you see here framing the path grew from almost mere sticks to be the giants they are today. And it is only six or so years since I planted the two Cassia Fistulas you see in the background. The ixoras particularly like this part of the garden, as do the passion fruit climber in the background. The rest, well, they're annuals of all sorts, the one you see behind the ixora is the lovely purple variety of datura.
Forgive the length of the grass in this picture. It is done on purpose as I have recently sanded and re-seeded the whole lawn with bermuda grass seed and it's coming along quite nicely. I've cut the grass once about ten days ago and don't want to disturb the young shoots again for another few days. The lawn was quite tired after eight years and was about to give up, which required this drastic intervention. I'm glad that the bermuda grass is taking hold now and I hope that it will bring back the lawn to its full former glory.
How are you keeping your lawn pristine and lush in Bahrain? Do you have any particular tricks you employ to keep it good? I'd love to hear from you.
Have a lovely May Day holiday.
Filed in: Gardening
Tagged with: gallery • southern garden