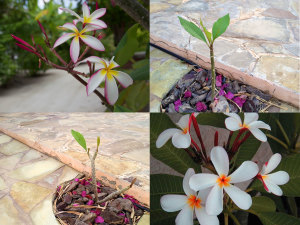 My wife and I spent a fantastic and relaxing short holiday in Velassaru, one of the Maldivian Heavenly atolls. The plants on that atolls were very similar to what we have here in Bahrain: plumerias, palms and other heat tolerant plants. I particularly fell in love with two plumerias, and the elephant ear plant.
I resolved to have them! And I knew it never hurts to ask. So I did, and got rewarded with two cuttings; one for the red-striped plumeria with it's gorgeous red stripe underneath each petal (similar to the one on the bottom right) and another, as you see on the top left. The gardener there was generous enough to give me two young elephant ear plants from his nursery. I was a very happy camper indeed!
We packed the cuttings and plants well and brought them home with us. As I love plumerias and already have several of them in our garden, I initially didn't have a good enough place for the new guests. I thought on it some more and then decided that the pool deck was an ideal place for them, especially as the area by the pump changing rooms was relatively bear, it being paved over and not having any shade in that area, they might well provide that focal point that was so far missing. Some digging was needed. So off I went to the construction equipment rental shop and got a small jackhammer and thank goodness I did, as the cement underneath those tiles was six inches deep. It took two guys most of the morning to complete the job. It was a hard slog, but in the end, the task was complete and we planted the two "sticks" in their places.
Nothing happened since they were planted in December 2011 and until late April 2012 there was no sign of life, other than the cuttings themselves continuing being green, which maintained the hope. Then at the end of April and all of a sudden, I noticed new growth! Finally, they had taken and are pushing through. As you can see from the pictures, both sport healthy leaves now and we're all looking forward to welcome their first gorgeous flowers.
Expect some pictures, hopefully soon!
Filed in: Gardening