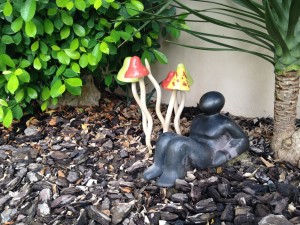 I don't think a garden is complete without some nice statues or other accessories.
In my garden, I placed quite a number of accessories in several places, but not enough to overwhelm it though, I think you have to have good balance in what you're doing, otherwise it will rob the essence of a beautiful garden and you'll end up with a backyard second hand store!
One of the best accessories that continues to give me a lot of pleasure is the bird bath. I've positioned this just outside my study and I have a full view of it through bay windows. It has become a mecca for all kind of birds who not only use it to
have a drink, but also seem to really enjoy themselves bathing in it at all times of the day. Click the link above to see some of the pictures I've taken of some of the birds enjoying it.
One of the garden accessories that I would love to have but know that it will be useless here is a hummingbird feeder. I've seen them in action in Canada and I never tire of just sitting there watching hummingbirds feedings.
What's your favorite accessory? What accessory would you really like to have in your garden? Please enter your comments below.